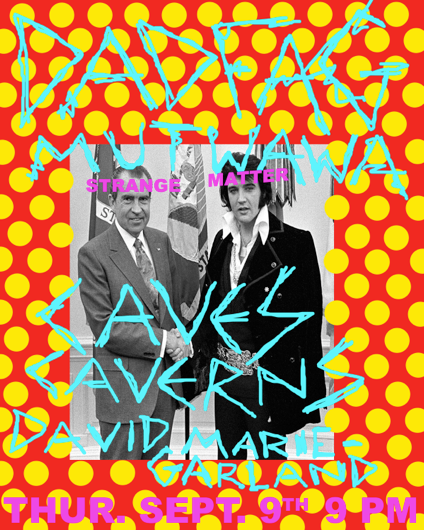 "
DADFAG
are a blistering young San Francisco three-piece that has been kicking the West Coast's ass for a couple of years at house parties, warehouses, and clubs. The band members--two girls on vocals, a boy on drums--fled from the South, sweaty, bored, and sick of explaining themselves. The trio started practicing as Dadfag shortly thereafter in a borrowed practice space in San Francisco's Potrero Hill neighborhood. One year, 30 songs and 17,000 shows later, Eva Hannan, Alan Miknis, and Danielle Benson are still playing with dildos, baking pies, and making people uncomfortable."
MUTWAWA
- esoteric mystics/ world radio DJs/ machete mob broadcasting live from deep below Africa appearing in the form of a local electronics duo...
CAVES CAVERNS
- Psychedelic FREAK OUT brain surfers intent on rendering audiences into a vibratory/ hallucinatory frenzy...start stripping.....
DAVID MARIE-GARLAND
is a local stand-down comedian/ psychic commando dropping soul-bending joke bombs into your unsuspecting psyche...LAST MINUTE SHOW, TELL YOUR FRIENDS!!!!!!!!!!!!!!!!!!!!!