CHAOTIC NOISE PRODUCTIONS (C.N.P.), SUPPRESSION, OOZING MEAT, BERMUDA TRIANGLES, BROWN PISS, MASTICATED POLYPS, MUTWAWA, GORMANDIZING ORDURE, RECTAL PUS, and friends...cassette, CD, and vinyl releases, downloads, videos, art, illustrations, screen prints/ shirt designs, etc. Based in Richmond, VA
Thursday, April 15, 2010
....on
MAGIC BULLET
!!!!!!!!
Posted by

Mr. Cockroach
at 3:21 PM
4 comments:

Saturday, April 3, 2010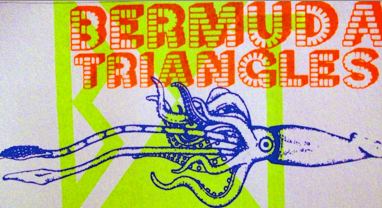 In February of last year we had been a band for about 6 months and we decided to record the songs we had, minus the 2 or 3 we had already chucked, so we could have something to sell the following month when we were going to Austin, TX to play this awesome
BLACK FONTANELLE
party. Since money, as always, was an issue we decided to record the songs ourselves on our trusty Tascam 4-track cassette recorder. We then dumped the music on Bill's computer and recorded the vocals and a couple of keyboard overdubs. We also mixed it on his computer and were not completely happy with the results. Our friend Justin Bailey then offered his mastering services for the right price, free! He, along with a couple of tips from our friend Kevin Willoughby, turned a pretty shit 4-track recording into something listenable and most certainly of demo quality. So, thus, The "Giant Squid" demo was born!!! This was recorded while we were still a 3-piece and 3 months before Sean Cassidy joined us on saxophone. So while a few of these songs appear on our upcoming "Reptilian Intervention" LP (out next week!!!), the new versions plus the newer material (all featuring Sean and all recorded by the before mentioned Kevin Willoughby) are all far superior. Subsequently, shortly after the "Giant Squid" was released we chucked a few of those songs as well as they didn't fit in with our concept of what the BTs "sound" was or was becoming. So this is for the die-hard completists if there are actually any out there...
Track list:
1. Welcome To Earth
2. Pulses Emitting From Deep Space
3. Riddles In The Sand
4. Nervous
5. The Awesome Power Of Reptilian Jaws
6. Leviathan
7. Mr. E. Mysterious
8. Human Electric
9. Sexy Mutants
10. Part Of The Stars
download
Posted by

Mr. Cockroach
at 2:11 PM
1 comment: