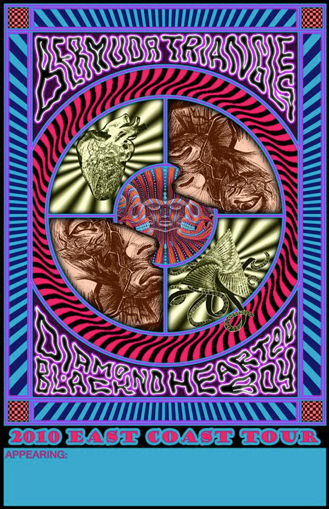 Richmond, VA's BERMUDA TRIANGLES and
DIAMOND BLACK HEARTED BOY
creep through select cities on the east coast:
Friday April 23rd Roanoke, VA @ BAZAAR Consignments w/ Buck Gooter and AAZ.
Saturday April 24th Knoxville, TN @
BIRDHOUSE
w/ I NEED SLEEP
Sunday April 25th Atlanta, GA @
EYEDRUM
Monday April 26th Charleston, SC @
OUTER SPACE
Tuesday April 27th Chapel Hill, NC @
NIGHT LIGHT
w/ Juan Huevos, Dunbar & Santiago
Wednesday April 28th College Park, MD @
TREESWING HOUSE
w/ Paul Joyner Band and Caves Caverns!!!
Thursday April 29th Brooklyn, NY @
GLASSLANDS
w/ Human Resources, DJ Harrison, and DJ Venus X
Friday April 30th Philadelphia, PA TBA
Saturday May 1st Baltimore, MD @
RUINTOWN
w/ tba