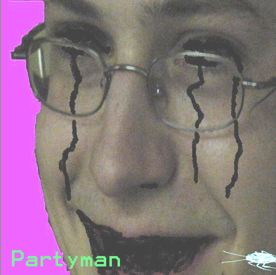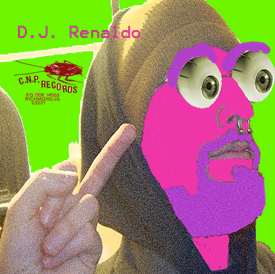 Ah, I always loved this release but almost everyone missed out on it. So here it is!!!! This is totally warped, frantic, techno-dancegasm-electronica-grindcore-booty-freak out jams from the solo projects of these two men, who also happen to be well respected drummers!!!
D.J. RENALDO
is one Mr. Ryan Parrish who now operates under the guise of
YEARS
and he is the incredible drummer of the bands
DARKEST HOUR
,
ROPE COSMETOLOGY
, and
SUPPRESSION
. I included a bonus track from him, the song "Fiscal Year Fandango" which appeared on the C.N.P. DVD but the audio was never "officially" released. Plus it's one of my fave Renaldo tracks!
PARTYMAN
is young Mr. Alex Tomlin, drummer extraordinaire for
BATTLEMASTER
and
LA MERE VIPERE
, his material on this release is the more hectic-paced of the two...to say the least. I have a feeling you folks will have fun with this one!!! I'm sure they had fun making these soundsss...alone in their rooms, late at night, on their computers, eating sandwiches. Freaks. Enjoy!!!
tracklist:
PARTYMAN "Zesty"
1. Deathrave2k4
2. Simply Shit Yes
3. Evening At Huckertons
4. Blernst!
5. Matrix Fans Go Home
6. Boxwine Dreams
7. Perm Derby
8. Dirty Breakfast Children
D.J. RENANLDO "This Thing Reads Like Stereo Instructions"
9. The Pathway To Hell Is Paved With Good Intentions
10. Dance In My Pants
11. Indorella
12. The Different Seasons In Clown Town
13. It's A Shame We're All So Confused
14. Be Aware Of Them Without Understanding Them
15. An After Bar Philosophizer
bonus track:
16. Fiscal Year Fandango
DOWNLOAD