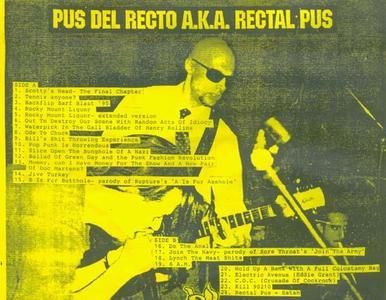 O.K.
Rectal Pus
formed in 1992 and existed simultaneously alongside
Suppression
, both bands had similar members. Our demo tape, "Fuck Roanoke," actually was released before the Suppression demo and it was kinda horrible in an endearing kinda way. It was blown out, boom box recorded noise-core in the vein of
Sore Throat
,
Seven Minutes Of Nausea
, etc. but most of our "lyrics" (ha ha ha) were just completely ridiculous and childish. The only sounds that were coherent were the Cheech and Chong/ Revenge Of The Nerds samples. Well, in 1995, after 2 unlistenable tape releases and a couple of decent 4-track recordings, Scotty Pus (our guitarist and 4-track engineer extraordinaire) thought it would be fun to do a record in a real studio. So we booked studio time at Southwest Recording Studios, where Suppression had done all of our recordings. We loaded up on cheap beer and some other substances only known to natives of southwest Virginia...and it was fun!!! The entire recording was improv, except for a couple of Sore Throat/ Rupture parodies and a terrible version of Eddie Grant's "Electric Avenue." The only actual songs were done on 4-track and are the last 3 tracks on the record, which have more of a straight up fast hardcore style to them. The line-up on this record was: Jason Hodges (myself) a.k.a. Weird Stan (Suppression, Bermuda Triangles, Amoeba Men)- drums/ vox; Scotty Pus (
Appalachian Autonomous Zone
)- guitar; Dave Austin a.k.a. Howard The Fuck (original singer of Suppression)- drums/ vox; Bill Porter a.k.a. Bill Prick (Big Eats, Bermuda Triangles, Idi Amin, Hallelujah!)- tape machine/ bass; and Bill Mahone a.k.a. Billdo (original "noise" guy in Suppression)- vocals. This was released on Chaotic Noise Productions (now C.N.P.) and Weather Profuktions (Bill's label at the time) but Scotty Pus actually paid for everything. It's a pretty fun ride if you keep telling yourself it doesn't suck. Enjoy!!!!
tracklist:
1. SIDE A- Scotty's Head...The Final Chaper/ Tennis Anyone?/ Backflip Barf Blast/ Rocky Mount Liquor/ Rocky Mount Liquor- extended version/ Out To Destroy Our Scene With Random Acts Of Idiocy/ Waterpick In The Gall Bladder Of Henry Rollins/ Ode To Chuck/ Bill's Shit Throwing Experience/ Pop Punk Is Horrendous/ Slice Open The Bunghole Of A Nazi/ Ballad Of Green Day and The Punk Fashion Revolution/ Mommy, Can I Have Money For The Show And A New Pair Of Doc Martens?/ Jive Turkey/ B Is For Butthole- parody of Rupture's "A Is For Asshole"
2. SIDE B- Do The Anal/ Join The Navy- parody of Sore Throat's "Join The Army"/ Lynch The Meat Shits/ 6 A.M./ Hold Up A Bank With A Full Colostomy Bag/ Electric Avenue (Eddie Grant)/ C.O.C. (Crusade Of Cockrock)/ Kill 90210/ Rectal Pus= Satan
download