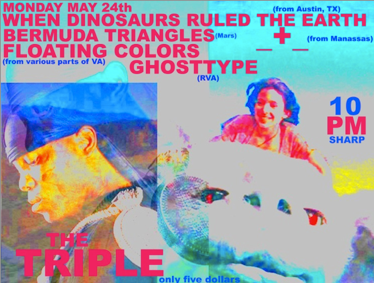 WHEN DINOSAURS RULED THE EARTH
are from Austin, TX and will rule your ears and stomp your brains,
BERMUDA TRIANGLES
are on acid,
FLOATING COLORS
float all around the badlands of VA,
_+_
is from a cabin in Manassas and may have an axe,
GHOSTTYPE
haunts a local Kroger, I've seen it!!!!
TRANSISTOR HEART III
will be spinning bizarro sounds between bands!!! 10 PM sharp!!! Don't be fashionably late or you will be fashionably sorry, we're cramming a lot of music in 4 hours so it will have to start ON TIME, cram time!!!!! Tell your friends, tell your neighbors, tell your mom...this will be a stomper...
FIVE BANDS FIVE BUCKS!!!!!!
flyer art by Stephen Palke